Chypre aux IVe et IIIe siècles avant notre ère
The absolute dates of 404 and 200 BC do not coincide with any major event in the history of Cyprus. They frame, however, a long period which can be considered as a political and cultural transitional phase. As of the end of the 3rd century BC and not before, with the establishment of a military government, dominated by foreigners, is Cyprus definitely integrated into the Ptolemaic order. At the same time, original cultural features, such as the use of local scripts (syllabary and Phoenician alphabet) disappear. During this long period, and despite brutal breaks (such as the termination of autochtonous royal dynasties), the evidence shows continuities and adaptations.
Les dates de 404 et 200 av. J.-C. ne coïncident avec aucun moment de rupture dans l'histoire événementielle de Chypre. Elles bornent cependant une longue période qu'il est sans doute pertinent d'envisager comme une phase de transition, politique et culturelle. Ce n'est, de fait, qu'à partir de l'extrême fin du IIIe siècle qu'est mis en place un mode de gouvernement militaire, dominé par des étrangers, qui signale l'entrée définitive de Chypre dans l'ordre lagide. Vers la même période disparaissent certains traits culturels originaux, en particulier l'emploi d'écritures locales (syllabaire et alphabet phénicien). Entre ces deux dates, et malgré la brutalité de certaines transformations (comme la fin des dynasties royales indigènes), les marques de continuité et d'adaptation sont nombreuses.
Fichier principal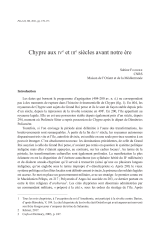 Fourrier_PALLAS.pdf (2.6 Mo)
Télécharger le fichier

image (1).png (25.91 Ko)
Télécharger le fichier

image (2).png (23.48 Ko)
Télécharger le fichier

image (3).png (2.7 Ko)
Télécharger le fichier

image (4).png (3.05 Ko)
Télécharger le fichier

image.png (25.91 Ko)
Télécharger le fichier
Origin : Publisher files allowed on an open archive