Spatialité financiarisée. L'écueil du patrimoine judiciaire
As the holder of an exceptional heritage, the French ministry of Justice is now faced with problems of managing its heritage. It thus increasingly resorts to funds and private partnerships which enable it to give new activity to these buildings. However, these changes of use do not necessarily lead to a change of identity, which is not without posing problems for these emblematic places of the city, representative by their architecture of the power and the integrity of the state. Beyond these issues, it is also a change in management where cities must now engage in long and complex public - private partnerships, again posing questions of integrity and prerogative, such as reconversion of the city of Caen high Court.
Détenteur d'un patrimoine d'exception, le ministère de la Justice se trouve aujourd'hui dans des problématiques de gestion de ses biens. Il a ainsi de plus en plus recours à des fonds et des partenariats privés qui lui permettent de donner une nouvelle activité à ses bâtiments. Ces changements d'affectation n'engendrent pour autant pas nécessairement de changement d'identité, ce qui n'est pas sans poser de problème pour ces lieux emblématiques de la cité, représentatifs par leur architecture de la puissance et de l'intégrité même de l'Etat. Au-delà de ces enjeux, il s'agit également d'un changement de gestion ou les villes doivent désormais s'engager dans des montages public – privé longs et complexes, posant là aussi des questions d'intégrité et de prérogative, telle la reconversion de l'ancien Tribunal de Grande Instance de Caen.
Fichier principal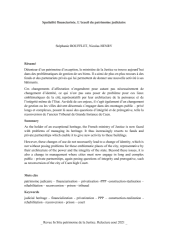 210831_article financiarisation justice NH SB.pdf (1.1 Mo)
Télécharger le fichier
Origin : Files produced by the author(s)